Eight Inch Spotted Metal Gecko - Caribbean Craft
---
---
Frequently Asked Questions
This gecko is handmade in Haiti from recycled oil drums. Each has a small hook to hang the piece and is painted with a bright colorful design inspired by the local Hatian culture. From head to tail, the gecko is 8 inches long.
Meet the Artisans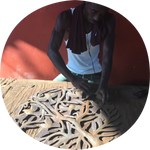 Founded in 1990 by a multinational group of young entrepreneurs, Caribbean Craft promotes employment in Haiti by training unskilled craftspeople, and by assisting the independent artisans through the introduction of new designs and new market outlets for painted Haitian metal art.
Caribbean Craft's specialty is the brightly colored, artistically hand-painted Haitian metal art wall hangings. These hand-painted Haitian metal art pieces are truly works of art. Wall art designs include painted metal geckos, painted metal dragonflies and painted metal frogs.
Q - How do I qualify for free shipping?
A - All orders over $50 that are shipped to the United States qualify for free shipping and will arrive in 3-4 days.
Q - How long before I receive my order?
A - If you live in the United States your order will deliver in 3-4 days if you selected Priority Mail or you qualified for free shipping. International orders vary by country. The most common international countries are: England, Australia, New Zealand and western Europe take 7 to 10 days. This does not apply to custom printed orders.
Q - What are Memory Cross cards made of and how durable are they?
A - The small Memory Cross cards are printed on 10 point coated board (think playing cards). The larger cards which measure 6 x 6 inches are printed on 100 lb. uncoated cover (think Hallmark card). We've tested each size and they hold up to hundreds of folds. The larger cards hold up longer because the "hinges" that allow them to fold are larger. We've tested the larger cards to fold over 500 times. That being said it is still important for the cards to be folded properly. Most children can figure it out on their own but if you are giving them to 4 or 4 year olds we recommend that you show them how it works. If you do not know how they work, we've created a video that you can watch by clicking here.
Q - What guarantee do you offer?
A - Memory Cross offers a 100% money back guarantee if you are not happy for any reason. We even pick up the cost of shipping the product back. Here is the link to our full return policy.
Q - Can cards be customized?
A - Yes cards can be customized for churches and businesses. The minimum order for churches is 250 and for business is 500.
---
Share this Product
---
More from this collection