Felt Penguin Ornament - Wild Woolies (H)
---
---
Frequently Asked Questions
This 3.5 inch tall holiday ornament is made from 100% natural wool and non-toxic, azo-free dyes.
Meet the Artisans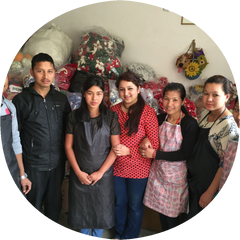 Walking into the Kathmandu production center's reception you are immediately greeted by a cheerful 'Namaste' ('I Salute the God Within You') with hands pressed together in a prayerful expression. Proceeding into any of the production halls you'll be greeted by a complete chorus of the same as dozens of ladies press felt into a variety of shapes, while others stitch, needle and applique to finish hundreds of different styles of decorative items for export.
Sheep's wool is an amazingly adaptable fiber. It can be dyed any color and when hand felted using warm mildly soapy water it can be molded into any shape, or then cut and sewn together as per your imagination. Because the felting and most of the stitching process is all done by hand with natural materials that can be sustainably harvested, hand felted products have a relatively soft impact on the environment. Commercial exports of felted products from Nepal have grown exponentially since around 2000, benefitting thousands of mostly women workers, production managers and family businesses who help support their families and educate their children with their earnings.
Q - How do I qualify for free shipping?
A - All orders over $50 that are shipped to the United States qualify for free shipping and will arrive in 3-4 days.
Q - How long before I receive my order?
A - If you live in the United States your order will deliver in 3-4 days if you selected Priority Mail or you qualified for free shipping. International orders vary by country. The most common international countries are: England, Australia, New Zealand and western Europe take 7 to 10 days. This does not apply to custom printed orders.
Q - What are Memory Cross cards made of and how durable are they?
A - The small Memory Cross cards are printed on 10 point coated board (think playing cards). The larger cards which measure 6 x 6 inches are printed on 100 lb. uncoated cover (think Hallmark card). We've tested each size and they hold up to hundreds of folds. The larger cards hold up longer because the "hinges" that allow them to fold are larger. We've tested the larger cards to fold over 500 times. That being said it is still important for the cards to be folded properly. Most children can figure it out on their own but if you are giving them to 4 or 4 year olds we recommend that you show them how it works. If you do not know how they work, we've created a video that you can watch by clicking here.
Q - What guarantee do you offer?
A - Memory Cross offers a 100% money back guarantee if you are not happy for any reason. We even pick up the cost of shipping the product back. Here is the link to our full return policy.
Q - Can cards be customized?
A - Yes cards can be customized for churches and businesses. The minimum order for churches is 250 and for business is 500.
---
Share this Product
---
More from this collection