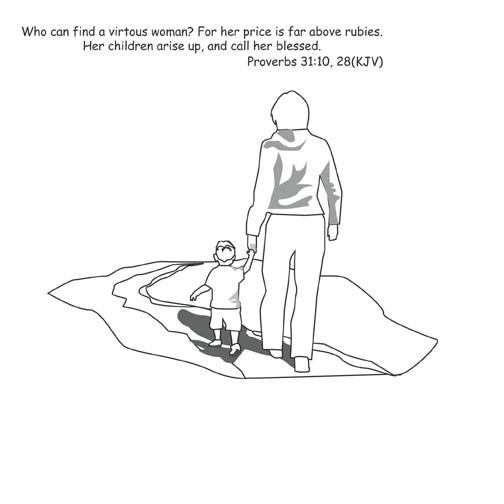 Mother's Day Coloring card - 12/pk Size: 7 x 7
$ 13.95
$ 15.95
The Memory Cross Mother's Day Card – a unique, origami-inspired endless loop card, perfect for kids to express their love and creativity to their moms. This innovative card design will delight children and mothers alike, making it a memorable and heartwarming Mother's Day gift.  Size: 7 x 7 inches Product Features: Creative origami design: The Memory Cross Mother's Day card features a clever origami-style folding technique, creating a never-ending loop that adds a touch of novelty and fun to the traditional greeting card. Engaging and interactive: The endless loop design encourages kids to play with the card, keeping them engaged. At the same time, they explore the card's different panels and foldable sections. Coloring activity: With dedicated spaces for kids to color, this card doubles as a creative activity allowing children to personalize their Mother's Day message with their artistic flair. High-quality material: Made from sturdy, eco-friendly paper, this 7 x 7-inch card is designed to withstand multiple folds and coloring, ensuring it lasts as a treasured keepsake for years. Perfect for all ages: Whether toddlers are just learning to color or older kids who love to get creative, this versatile Mother's Day card is suitable for children of all ages. Easy to follow instructions: The Memory Cross Mother's Day card has clear, step-by-step instructions to guide kids through folding and coloring, making it a stress-free activity for parents and children alike. Celebrate this Mother's Day with the Memory Cross Mother's Day card. This one-of-a-kind gift combines the timeless joy of a heartfelt message with the excitement of a never-ending origami loop. Order now and watch your child's creativity and love for their mom unfolds in this special keepsake.
Blank Memory Cross Cards Size: 6 x 6 - 12 per pack
$ 11.65
$ 12.95
Blank Origami Memory Cross Cards Blank origami card with four panels that makes an endless loop.  The possible uses are almost endless.  Use it with children to make an interactive storybook or write down a Scripture that they are learning to memorize and decorate it with stickers or pictures from a magazine.  You can also use it to make a beautiful doodle card.